The 18th Youth's Science and Technology Conference of Hanoi University of Pharmacy
In the morning of 23 January 2016, Ha Noi University of Pharmacy organized t
he 18th Youth's Science and Technology Conference
in order to evaluate activities on science and technology of young lecturers and students in the last two years and select the best reporters to attend the
Youth's Science and Technology Conference of Vietnam's Pharmacy and Medicine Universities
which will be held in May 2016 at the Da Nang Technical University of Medicine and Pharmacy.
 At
tending the meeting were representatives from Administration of Science Technology and Training-Ministry of Health and representatives of universities/collegesin the Northern part of Vietnam which have training program on pharmacy. On HUP side were Assoc.Prof. Dr. Nguyen Dang Hoa, Secretary of Party Committee - Rector; Prof. Dr. Nguyen Thanh Binh, Deputy of Party Committee - Vice Rector; Prof. Dr. Thai Nguyen Hung Thu - Vice Rector as well as Heads of departments/divisions, the professors, associate professors, lecturers, and students reporting in the conference. Pharmacists Le Ngoc Khanh, Secretary of
Ho Chi Minh Communist Youth Union of HUP
reported the outcome of activities on learning - research of HUP youth in the period 2014 – 2016. In recent years, under the leadership of the Party Committee, and with the careful attention of Directorate Board, the activities on scientific research has attracted many young lecturersand nearly 60 students participating in the scientific research projects at all levels. In particular, some young lecturers reported in the regional conferences such as ACCP, ASEAN Pharmnet ...showing their first step to integrate actively into the world.
There were 47 reports from 4 specific groups: Pharmaceutical Chemistry,
Drug Testing; Pharmaceutics and Pharmaceutical Industry; Microbiology, Clinical Pharmacy; Administration and Pharmacoecomics; Pharmaconogy; Traditional Medicine. This year, the reports were highly evaluated
on the targets of good quality, scientific, creative, careful preparation and high practical value by Examiners Committee. After a hard working day and with full responsibilities, the committee selected and rewarded
20 best
quality
reports including
four first prizes and four second prizes, four third prizes and eight
consolation prizes
.
These reports which won the first prizes and second prizes will be nominated to attend
the
Youth's Science and Technology Conference of Vietnam's Pharmacy and Medicine Universities.
First prizes: 04
1. PROCESS OPTIMIZATION FOR PILOT SCALE SEMI-SYNTHESIS OF CARBOCISTEINE
Nguyen Van Hai (Lecturer of Pharmaceutical Industry)
Supervisors:
Prof. Nguyen Dinh Luyen
2. STUDY ON FORMULATION AND IN VITRO ANTINEOPLASTIC ACTIVITY OF ARTESUNATE-LOADED CHITOSAN- DECORATEDPLGA NANOSYSTEM
Ho Hoang Nhan ( PhD student)
Supervisors: Prof.Dr. Chul Soon Yong, Prof.Dr. Nguyen Ngoc Chien
3.
EVALUATION OF THE IMPACT OF CLINICAL INTERVENTION ON THE UTILISATION OF INTRAVENOUS ACICLOVIR IN A TERTIARY REFERRAL HOSPITAL
Duong Khanh Linh (Program of Master Mekong Pharma
)
Supervisors: Prof.Dr.
Nguyen Hoang Anh
4.
BOTANICAL CHARACTERISTICS, CHEMICAL COMPONENTS AND BIOLOGICAL EFFECTS OF GOLDEN CAMELLIA IN BA CHE DISTRICT, QUANG NINH PROVINCE
Ngo Thi Thao
(
Students of 18 th master course
)
Supervisors
: Prof.Dr. Tran van On, Dr. Hoang Quynh Hoa
Second prizes:4
1. BUILDING MATHEMATICAL MODELS TO PREDICT
XANTHINE OXIDASE INHIBITORY ACTIVITY OF FLAVONOIDS
Cao Huy Binh (K67 Student)
Supervisors
: Assoc. Prof., PhD. Nguyen Thu Hang, Ph D. Pham The Hai
2.
PREPARTATION PEGYLATED LIPOSOMAL DOXORUBICIN
Nguyen Van Lam (Department of Pharmaceutics)
Supervisors
: Assoc. Prof., PhD Pham Thi Minh Hue
3. 
RENAL TOXICITY IN ASSOCIATION WITH TENOFOVIR ON PATIENTS TREATED WITH ARV AT BACH MAI
Nguyen Tien Phap (Pharmacist K65)
Supervisors
: Vo Thi Thu Thuy (National DI & ADR Centre)
4.
EVALUATING THE ANTI-ALLERGY EFFECTS OF EZ EXTRACT
Nguyen Thi Ngoc Minh ( Student K66 )
Supervisors
: Prof. Dr. Nguyen Manh Tuyen, Prof. Dr. Phung Hoa Binh
1. INITIAL SYNTHESIS MESNA FOR ANTIDOTE DRUG TARGET IN CANCER CHEMOTHERAPY
Nguyen Van Manh ( Student K66)
Supervisors
: Prof.Dr. Nguyen Dinh Luyen, PhD Nguyen Van Hai, MS Dao Nguyet Suong Huyen
2. SYNTHESIS AND REFINED 4 -AMINOPHENOL TO IMPURITY USED IN QUALITY CONTROL OF RAW MATERIALS AND DOSAGE FORMS OF PARACETAMOL
Phung Duc Hanh (Student K66)
Supervisors
: MS Nguyen Van Giang, MS Le Thi Thu, Gian Thi Lan
 3. ANALYZE THE TRENDS OF IMPORTED DRUGS TO REGISTE AND CIRCULATE IN VIETNAM IN THE PERIOD

2012-2014
Nguyen Thuy Hang (Student K67)
Supervisors
: MS. Nguyen Thi Phuong Thuy
4. EFFECTS OF EXTRACTION AND ISOLATED COMPONENT FROM THE STEM OF BANANA ( Musa paradisiaca . L ) ON PTP1B ENZYME
Nguyen Thi Huyen (Student K66)
Supervisors
: Prof.Dr. Phung Thanh Huong
Consolation prize: 8 prizes for Nguyen Ngoc Cau, Nguyen Cong Truong, Dang Thi Ngoc Lan, Ngo Minh Thuy, Doan Thi Phuong Thao, Bui Thi Ngoc Thuc, Phạm Ba Hanh, Duong Thi Thanh Mai
 Some photos of conference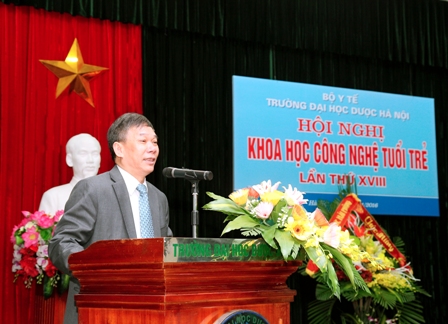 Prof.Dr. Nguyen Dang Hoa - HUP Rector making opening ceremony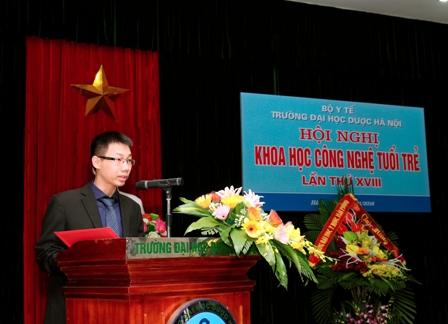 Pharmacist Le Ngoc Khanh - Secretary of Ho Chi Minh Communist Youth Union of HUP reporting the outcome of activities on learning and research of HUP youth in the period 2014 –2016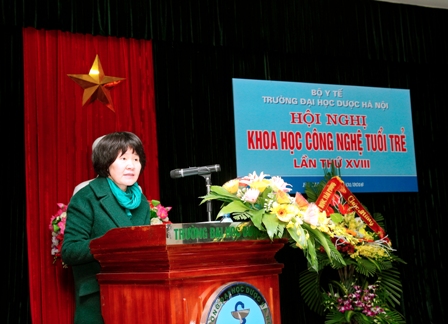 Prof.Dr Do Quyen - Head of Science Management Dapartment announcing Decision of establish Examiners Committee ofthe 18th Youth's Science and Technology Conference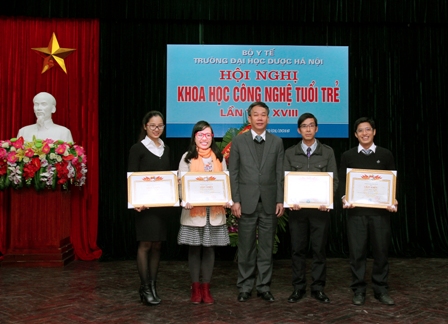 Prof.Dr. Nguyen Dang Hoa - HUPRector rewarding Certificate to the first prizes reporters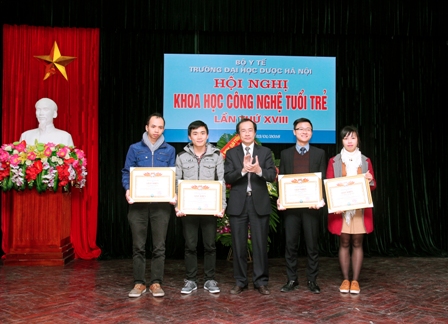 Prof. Dr. Thai Nguyen Hung Thu-Vice Rector
rewarding Certificate to the second prizes reporters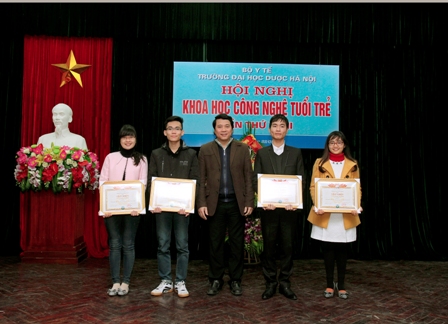 Prof.Dr. Nguyen Thanh Binh rewarding Certificate to the third prizes reporters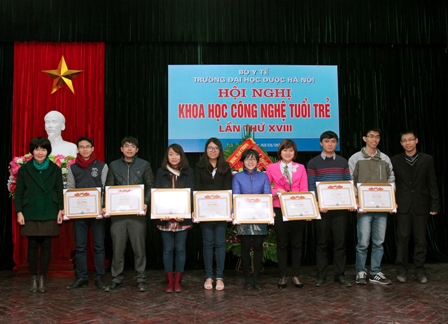 Assoc. Prof.Dr. Do Quyen -Head of Science ManagementDepartment and Pharmacist Le Ngoc Khanh- Secretary of Ho Chi Minh Communist Youth Union rewarding Certificate to the Consolation prizes reporters
---
11-03-2016