The Hanoi University of Pharmacy (hup) have been conferred the emulation banner of Ministry of Education and Trainning (moet)
​In school year 2010-2011, the collective of administrative, lecturing/teaching and training staff, trainees and students of the HUP have put much endeavour and have achieved many advanced successes. The first time, the self-assessment works have been organized comprehensively by the HUP.
​
The HUP have implemented a variety of actions and measures to maintain and enhance the training/teaching quality. The teaching/training programs and curricula for all learning/study levels in the HUP have been reviewed and revised with closer approach towards actual professional practice. The inspection, checking and supervision works over the teaching/training activities have been maintained consistently and strictly. There are some learning/study results in school year 2010-2011: 54 students of with-distinction grade (1.51%), 275 students of excellence grade (7.69%), 833 students of proficiency grade (23.30%), 1216 students of upper-average grade (34.01%).
The enrolment activities for graduate and post-graduate education have been proceeded strictly and safely following the regulations. The scientific activities: the HUP have strengthened the Scientific Council, accelerated the progress of scientific researches, strictly and earnestly organized the presentation and taking-over activities. The scientific seminars at different sections/departments have been organised as a preparation activities for the Scientific-Technological Conference of the HUP in the occasion of the 50th anniversary of foundation and development of the HUP; preparation activities for participation in the VII Indochina Pharmacy Conference that will be taken place in Thailand by the December 2011. Other activities of the HUP: the university is still going on the reparation, construction and up gradation of lecture halls/rooms, labs; procurement of teaching/research equipments and facilities; writing textbooks, syllabi and teaching documents etc. for day-by-day improvement in teaching and studying conditions for students and the university staff.
The promoted emulation and encouragement movement/campaigns in study and physical exercise have encouraged students to strive for better results. In the school year 2010-2011, there are 342 students that gained rewards from the university for excellent results of whom/ 40 students have been rewarded for all-round successes, 46 students rewarded for good study results, 256 students rewarded for good results in other activities. The results of the selection through discussion of emulation movements in school year 2010-2011 shows that 100% of the teaching and administration staff of different units/sections have gained the title of Progressive Labourer Team, of which 27/38 units gained the title of Excellent Labourer Team, 34 individuals gained the title of Emulation Soldier at grassroot level. With the above mentioned results, the HUP was conferred the Emulation Banner by Mr. Pham Vu Luan, the minister of Ministry of Education and Training with the Decision No. 44301/QD-BGDDT, for remarkable achievements in the school year 2010-2011.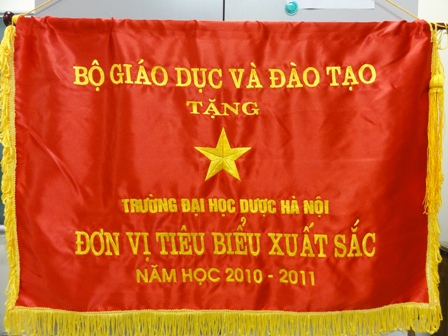 ---
13-02-2014